Featured U.S. School: University of Southern Indiana Intensive English Program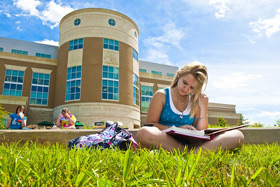 The Intensive English Program (IEP) at the University of Southern Indiana offers a curriculum designed for students of all levels of English proficiency based on student needs and interests. As an IEP student, you will have the opportunity to learn side-by-side with students from all over the world in a quality English language program staffed with expert instructors.
• Small class sizes with one-on-one interaction and class time with instructors
• Specialized classes based on future major or interest, such as English for Academic Purposes, Business English, etc.
• Affordable and competitive costs
• Conditional admission to university upon IEP completion
• Individual academic advising for students & assistance with visa process
• TOEFL preparation
• Access to computing and library facilities at a comprehensive university.
• Extracurricular activities
• Friendly atmosphere and safe environment
Learn more about the University of Southern Indiana Intensive English Program